I guess this is Classic Phish Month, and today we sure have a real classic amongst us. I was going to talk about another, lesser phishing email, but when I found this morning a Nigerian Prince-class email waiting in my mailbox, I knew I that it was the one.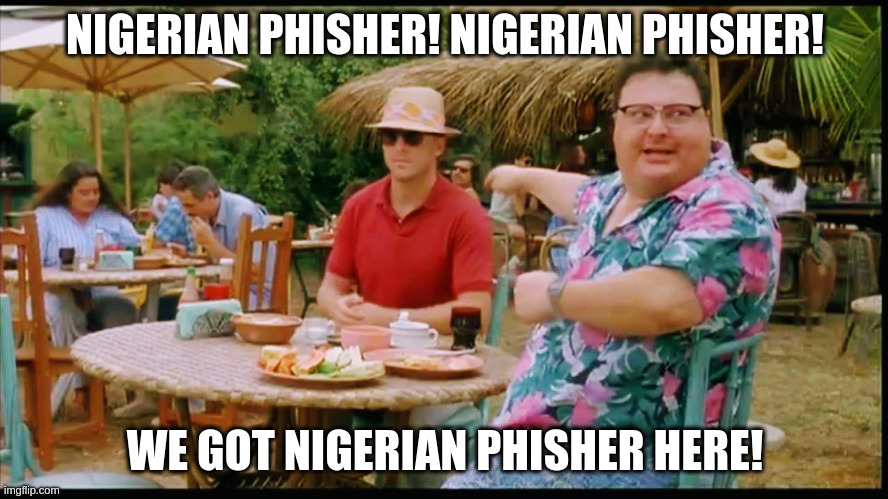 OK, this may not be royalty, and I did not check if it really originates in Nigeria or just pretends to be. Let's keep my hopes up and say it hails from the home of the 419 Scam. Like in the last post, last post, this is a classic advance fee fraud, or "I have free money for you but you need to provide me some info so I can steal your identity and/or bank account in the process" kind of email. Different from the aspiring phisher from last post, this one not only stuck to the basics but also honored the phishing forefathers. I am just posting the text version as it uses no graphics; it needs none:

From: Dr Samuel Ogboku. <yachay@yachay.pe>
Reply-To: <drsamuelogboku55@gmail.com>
Date: Fri, Jul 21, 2023 at 4:21 AM
Subject: Re: Don't Ignore This Important Notification From Niger Delta 
Development Commission (NDDC).
To: Clueless Phish


Dr Samuel Ogboku (Chairman/CEO)
Niger Delta Development Commission(NDDC)
Port Harcourt, Rivers State
www.nddc.gov.ng


Attention,


It is of pleasure contacting you via email. I came across your contact via the 
World Trade Center (W.T.C.)   African Regional office, without disclosure of my 
intentions which is personal.

As an authority here in Niger Delta Development Commission, I noticed  three 
executed contracts which have not been paid for and the contractors who 
executed these contracts could not be traced or reached  till this moment.Upon 
my resumption in the office, I called for internal auditing after hand over, 
I realized  so many  financial lapses involving   huge  contract sum  amounting 
to Forty Million , Six Hundred and Fourteen Thousand United States of America 
Dollars (US$40,614,000 Million), Twenty One Million United States of America 
Dollars (UDS$21 Million ) and Ten Million, Five Hundred  Thousand 
(US$10,500,000)  respectively.

I further investigated to find out that these  funds were products of over 
invoicing  from contractors / companies whom  actually and genuinely were 
awarded  contracts respectively and they  executed the jobs and were duly paid  
with Job completion certificates issued ,but my predecessors  could not move 
the left over  funds  due to unexpected call for their resignation/removal 
from the office ( WRONG TIMING).  Since their resignation,Some of them have  
secretly and personally approached me  to cover  these transactions  for them 
by not disclosing to anyone or leave it in the  NDDC accounts/ records  in 
order not to implicate them, rather , i should  protect their image and   
secure these funds for me and my cabinets as these funds have been there and 
cannot be declared to the Government , if disclosed, some higher authorities  
will find ways to  claim it. I have recently discussed  and agreed with the 
Executive Project Director, Chief Accountant and  Financial Director  to 
secure and move this fund outside

However, we further noticed that the  companies used in securing these funds 
respectively were neither  incorporated  as a legal entity with the Corporate 
Affairs Commission nor registered with Niger Delta Development Commission as 
contractors, making it difficult to neither function in business nor authorize 
for contract payment.

I am fully aware of the activities of some unscrupulous people that are 
currently going on in our world today which you must have been fully acquainted 
with unpleasant stories, especially this part. But the truth also remains that 
the world has not been totally invaded by this group of people hence, people 
can still do businesses together all over the world and further establish 
healthier personal and business relationships.

Having explained this, I seek your consent to partner with  us and  secure this 
fund in your name or company's name. All documents shall be legally provided to 
suit the purpose . As the Chairman  /CEO of Niger Delta Development 
Commission(NDDC), I cannot risk or gamble with my position. There is no risk 
whatsoever attached. We will award you with 15% of any secured funds with you 
and our shares shall  also be invested with you in your country pending when 
our tenure in the office will elapse.

Kindly get back to me  with your Full name and telephone / mobile number for 
more details if agreed to work with us.Also, I guarantee that this will be 
executed under legitimate arrangements that will protect you from any breach 
of the law.

Thank you.

Yours faithfully,
Dr Samuel Ogboku.

What makes this phishing email majestic
Take my word: you have to read through it to appreciate it. This is not a half-hearted phishing email like the mediocrity we have been receiving; this is the kind of well-crafted con we deserve to receive. It does not insult our intelligence but entertains it.

Chairman /CEO of Niger Delta Development Commission(NDDC)! This is proper Nigerian Scam. The only thing that could trump this was if it claimed to be from Nigerian Royalty. Yes, that is as close at this email is from the absolute apex in the phishing pantheon. This is the kind of email you only hear about. Remember where you were when you read it.

The second paragraph is there to set the bait (hence phishing), but when it gets to "huge contract sum amounting to Forty Million , Six Hundred and Fourteen Thousand United States of America Dollars", you know this email delivers! I am sorry; I have no words. I am giggling here.

Contrary to lesser phishing emails, this one does not scream at you or pressure you too hard. There is no terrible grammar here. It massages you back by slowly working its con onto your skin as if it was scented oil. It appeals to your greed, but just with the right pressure.

The Subject: line starts with Re: as this is an old trick to make the lesser (i.e. most of them) spam filtering tools to think "oh, this is a reply to an already running conversation; I better let it pass!" It still works.

The trademark of phishing emails, "kindly" is there. But this word is only to identify the garden-variety phisher, not someone who crafts this work of beauty.
So, savor this email. This is why I look down on so many phishing emails. When you experience this, you realize comparing this with the normal mediocricity that floods our mailboxes is like comparing between have clothes custom made by an European tailor with decades of experience and something bought at Wal Mart.